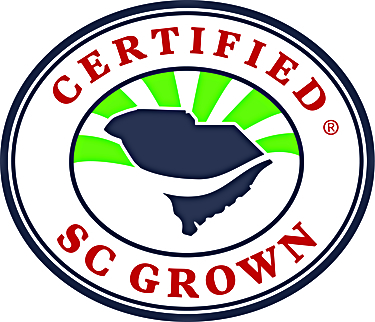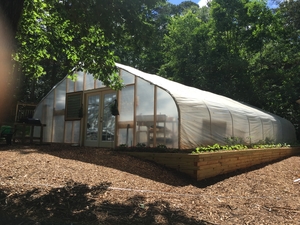 Produce 365 Microgreens

grows chemical-free microgreens in Duncan, SC using organic methods. This means no chemicals or pesticides with negative health effects. Organic soil, non-GMO seeds, filtered water and sunlight are the inputs.
We grow in a greenhouse with natural sunlight, which produces the highest quality microgreens.  The taste of a microgreen comes from the leaves, not the stem. Micros grown with artificial light have long, spindly stems and lack color and taste. Sunlight-grown micros have short, robust stems and deeply colored, flavorful leaves. 
                   SPINDLY KALE ARTIFICIAL LIGHT              ROBUST KALE SUNLIGHT
GAP CERTIFICATION
Produce 365 Microgreens is GAP Certified by the USDA.  The GAP audit focuses on Good Agricultural Practices to verify the produce is produced, packed, handled, and stored in the safest manner possible to minimize risks of microbial food safety hazards.  We take food safety seriously! 
                            
     Processing shed where the microgreens are harvested and packaged
CONTAINERS & SIZES
Our containers are made from compostable PLA (Poly Lactic Acid) which is a plant-based starch.  We do not use plastic containers. We offer three clamshell sizes as follows:
SMALL

  -  About 1 cup of micros (depending upon variety).  Enough to garnish 4 dinner plates, or add color and nutrition to any salad. Great if you want to try several different varieties. Clamshell size is 12 ounces.

MEDIUM

- 4-5 cups of micros (depending upon variety). The Sunny Salads come in this size.  Our most popular container. Clamshell size is 32 ounces.

LARGE

- 6-8 cups of micros (depending upon variety). Perfect size to share with family and friends. Clamshell size is 64 ounces.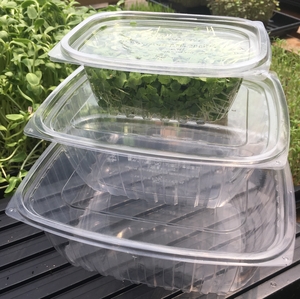 PRODUCT AVAILABILITY
To see the products we have available at this moment, simply click on any product categories to the left.  Quantities are limited to what you see.  As orders are placed, the quantities go down instantly.  We update the inventory daily when the microgreens are at peak freshness and are ready to be harvested. When the order is placed, you will receive an immediate confirmation email with a copy of your order, including the pricing.
If you need larger amounts or want us to grow a hard-to-find micro for you, send a text to Doug at 517-404-7411 or Jan at 517-861-0990.
 

Not ready to order?  Be sure to 

Like o

ur 

Facebook page

 so we can let you know about events & specials! 

 
HOW DO I GET MY MICROGREENS?
We offer two choices - FREE Delivery Locations in Spartanburg, Greer, and Greenville, or Home Delivery.
SUNDAY is DELIVERY DAY
ORDER DEADLINE IS FRIDAY AT 8 PM 
We meet customers at the Delivery Locations starting at 1:00 pm for no delivery charge!  We are flexible on the Delivery Locations.  If you would like to have one added, please contact us.
SPARTANBURG - Lidl East at 1:00pm and Lidl West at 1:45 pm
GREER - Aldi at 3:00 pm  GREENVILLE - Lidl at 4:00 pm
Home Delivery is $4.00.  Please set out a cooler with ice packs, in the shade, by 9 am on delivery day. We may do your delivery before or after the Delivery Location drop-offs. We will deliver to your home between 9 am and 5 pm on Sunday.  Minimum order is $15.00.
Can't meet us or take delivery on Sunday?  No problem!  Let us know when you need your micros and we will do our best to schedule delivery when it's convenient for you.
---
WE APPRECIATE YOUR BUSINESS
We work hard to provide microgreens grown without chemicals or pesticides to our customers in the Upstate.  You won't find microgreens like ours in your local supermarket. Please order from us in the knowledge that you are doing the right thing for your family and our small business.